For a limited time only, the Ambition Mods Ripley RDTA is now in stock and on sale at a discount. Buy this atomizer for only $39.99 after logging into your account. Pick from three different color options including Gunmetal, Black and Stainless Steel.
The Ripley RDTA is another collaborative project between Ambition Mods and The Vaping Gentlemen Club, who are known for higher end devices. This atty has a 22mm diameter, so it'll pair nicely with their Onebar Box Mod. In addition to that, it has a maximum e-juice capacity of 3.2ml. You will find a plug on the deck that allows you to fill the tank quickly and with ease.
Speaking of build decks, the Ambition Mods Ripley RDTA adopts the single coil build deck from the popular Bishop MTL RTA. The difference here is that there are two metal rods that go inside the posts that feed e-liquid to the cotton. Lastly, not only does it take the build deck, but the adjustable airflow system as well, which is definitely a good thing! This design allows you to really fine tune the draw to your liking.
All in all, if you want to pick up a new MTL/RDL single coil RDTA for your vape collection, then be sure to check out the Ambition Mods and The Vaping Gentlemen Club Ripley 22mm RDTA. It offers some unique designs at a cheaper price point.
Ambition Mods Ripley 22mm RDTA Features:
Collaboration between Ambition Mods and The Vaping Gentlemen Club
Overall diameter: 22mm
Stainless steel construction
Maximum e-juice capacity: 3.2ml
Fill port on the build deck
Adjustable pin hole airflow system
Single coil dual post build deck
Stainless steel wicking tubes
What's Included:
Ambition Mods Ripley RDTA
Accessory Bag
User Manual
Airflow Pins
Tank Section
Spare Kit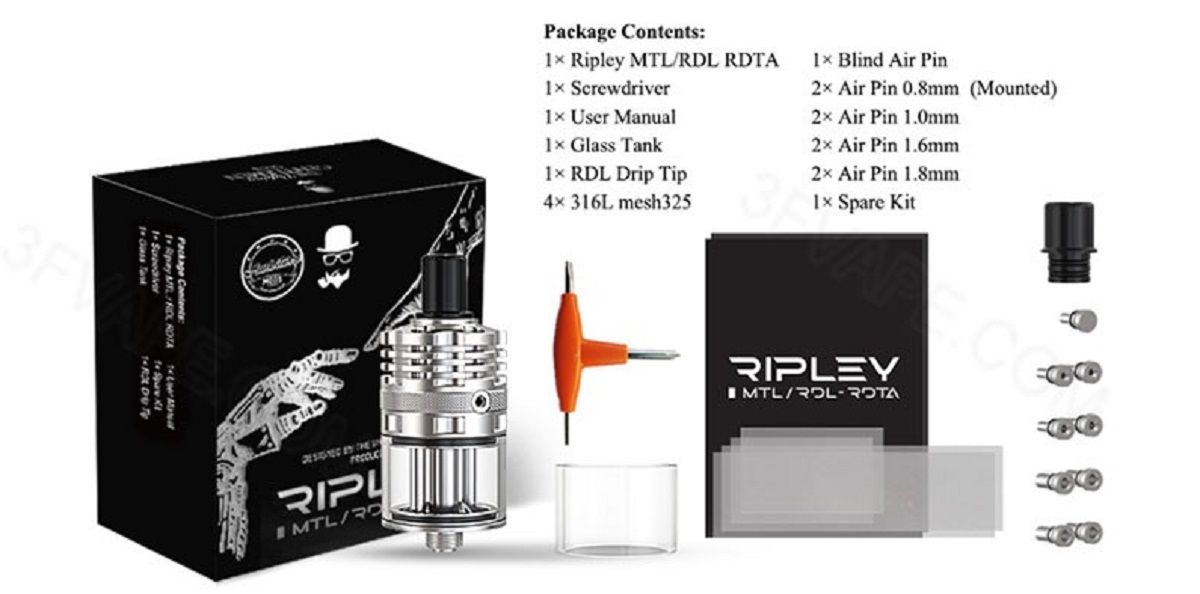 Be sure to check out the Ambition Mods Ripley RDTA video