Here's an awesome discount on the new and improved Augvape Narada Pro Pod System in collaboration with Vaperizzo. Get yours on sale for only $13.83 with code "XMAS10". There are three colors available which include Black Carbon Fiber, Black Leather and Wood.
The new Augvape Narada Pro Pod Kit features a minimalist design, and is pretty similar to the original Narada. However, there's been many different changes, and upgrades that makes this new version that much better of a pod vape. It starts with the ability to completely control the wattage output.
There's a single firing button, but it can be used to adjust all of your settings. Simply turn the firing button left or right to adjust the power. Additionally, you can swap between variable wattage, variable voltage and even temperature control. What's even better is that you can upgrade its firmware. 
At the top of the Narada Pro is where the display screen is located. When it comes to the battery, it has a capacity of 1,100mAh. However, it features quick charging, and can get up to 80% charged within 25 minutes.
Like an AIO or all in one kit, the Augvape Narada Pro Pod System features a replaceable coil system. Included in the packaging, you'll receive two different coils. One is a 0.4 ohm mesh coil catered to direct lung vaping, and the other is a 1.0 ohm coil for MTL. With this specific coil, it's recommended for MTL e-liquids such as nicotine salt e-juices. An RBA section will be coming soon as well, so you can install, and vape with your preferred coil.
The actual Narada Pro pod cartridge is quite unique took, and not just by its looks. On the side of the cartridge is where the airflow can be adjusted. By simply pushing the airflow control tab up or down, you can control the amount of air going to your installed coil. Lastly, the Augvape Narada Pro has a maximum e-liquid capacity of 3.7ml, and fills from the side.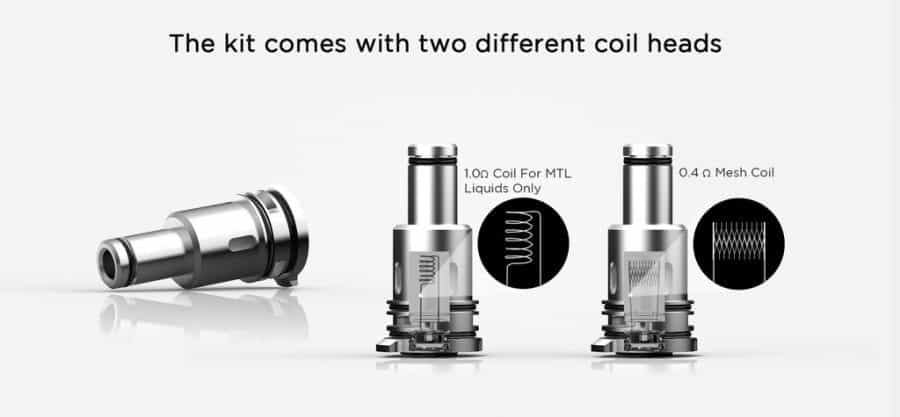 If you were a fan of the original, or looking for a new AIO pod kit that's slim, easy to use and just looks great, then you'll want to check out the Augvape Narada Pro Pod System. It's a huge upgrade from the previous version.
Augvape Narada Pro AIO Pod Kit Features:
Collaboration with Vaperizzo
Internal 1,100mAh Battery
USB Type-C Charging

25 Minutes To Reach 80% Charged

Wattage Output Range: 5w – 30w
Single Firing Button

Controls Wattage & Output Modes

Variable Wattage, Variable Voltage & Temperature Control
Can Upgrade Firmware
Slim & Lightweight Design
Zinc Alloy Construction
Narada Pro Pod Cartridge

3.7ml E-Liquid Capacity
Side Fill Port
Adjustable Airflow
PCTG Construction

Compatible with Narada Pro Coils

0.4 ohm Mesh (DTL)
1.0 ohm (MTL)
Optional RBA

3 Color Options
What's Included
Augvape Narada Pro Pod Mod Device
Empty Pod Cartridge
USB-C Charging Cable
1.0 ohm Coil for MTL E-Liquids
Spare 0.4 ohm Mesh Coil
Warranty Card
User Manual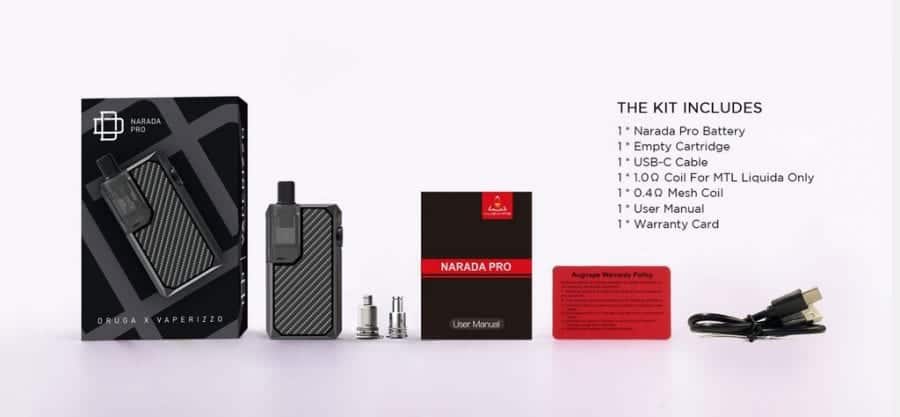 Check Out The Augvape Narada Pro Review