In 2023, there are more disposables than ever before that a vaper can choose from. Generally available in different shapes, sizes, nicotine strengths, flavors and functionality, there's never a lack of options in the vape market. While there are many good vape bars you can buy, not all are equal, and altogether, depending on what you're looking for, will determine which disposable you may want to get. 
For vapers looking for an incredibly slim vape bar to take with you on the go, vape brand Zovoo is back at it with a new addition to their growing lineup of disposables. The Zovoo Dragbar Z700 SE is aimed at delivering a convenience vape experience at an affordable price point, but also promises excellent performance when it comes to flavor and consistency. Does it hold up to the sea of options out there? We'll let you know that and more in our full Zovoo Dragbar Z700 SE Review.
Dragbar Z700 SE Disposable Vape Features:
Before getting into the actual review of the vape bar and flavors, let's dig into what makes this potentially stand out when comparing it to the competition. Here's all the features you need to know about the Dragbar Z700 SE.
GENE Tree Ceramic Coil
Fuller Atomization
50 Flavor Options
Long-Lasting Taste
Up to 700 puffs per vape bar
Thin and Light Form Factor
Comes in a pack of 2 disposable vapes
Transparent crystal mouthpiece
Unique zero dust technology
Available in various nicotine strength options
Unboxing the Zovoo Dragbar Z700 SE
Unboxing and first impressions of the Dragbar Z700 SE disposable vape by Zovoo is a pretty straightforward experience, which if you've seen our vape reviews, is certainly not a bad thing. Everything you need to know is right on the packaging, including the large nicotine warning. You'll see the two vape bars you'll get in the box as they do come in twin packs, which flavor option you've got, and product specifications on the back. This includes the amount of vape juice included, how many puffs you can expect, nicotine strength and more.
Once you open the box, you're greeted with both vape bars, which are individually wrapped. This is definitely a good thing in our book! Ripping the wrapper for each, and you'll notice the traditional silicone plugs and plastics to keep everything fresh and clean. First impressions of the actual vape device were that it actually looks really great! It's a simplistic yet almost futuristic
look, but what stands out the most is the form factor. The Zovoo Dragbar Z700 SE is incredibly thin and not that tall either. It certainly reminds you of the early disposable vape bars we've seen years ago before they became as popular as they are today. Easily, this can fit into any t-shirt pocket, bag or purse with ease. Not to mention, this would be a perfect device for some stealth vaping if that's something you're looking for. 
One thing to note here is that this device is not rechargeable like the Dragbar B5000. This is a good or bad thing depending on your needs, but like mentioned in the beginning, this device is aimed at a vaper looking or the most convenience from their vape device. No need to charge, once it's done, open up the second one that you'll get in the twin pack. 
All in all, first impressions of the Dragbar Z700 SE were great. Nothing to really complain about as it's packaged well, sports an excellent design and form factor, and best of all, comes in a pack of two. 
Dragbar Z700 SE Flavor Review
While this product looks amazing and offers a form factor that makes taking with you on the go effortless, the main question is how does it perform. There are tons of different flavors in this lineup of vape bars, and we'll cover a few. Let's get started!
Blue Razz Ice
Now, who doesn't love a good old-fashioned (in the vape world at least) blue razz flavor? This is easily one of the most popular flavor profiles, not only in disposables, but regular e-juices as well. With that said, Zovoo hit the nail on the head with this flavor, and it tastes exactly how you'd expect it to. 
On both the inhale and exhale, you get a sweet, but not too sweet, candied blue raspberry flavor. The ice kicks in more so on the exhale, but thankfully it's not overpowering nor too strong where it takes over the vape experience. Throat hit on the 20mg nicotine strength option is silky smooth, with no burning or stinging. The draw is also a bit tighter, which provides an excellent mouth to lung vape. If you do like a bit looser of a vape, you might not enjoy this as much, but for our vaping style, it's pretty much perfect. 
All in all, Blue Razz Ice is an excellent flavor in this lineup that can be vaped all day with ease. It's a bit subtle overall, but provides enough sweetness to satisfy. If you're a fan of these flavor profiles, you'll enjoy this one. 
Grape Raspberry Ice
This is probably one of the more interesting flavor profiles we've had in quite some time. You don't often see grape and raspberry blends in both disposable vape bars and e-liquids. Admittedly, reading this flavor, you won't think it'll actually taste that great, but we were pleasantly surprised by this one. It's a unique twist, especially considering the two main flavors here, grape and raspberry.
On the inhale, you'll taste a bit more grape, but as you exhale, you'll taste a mixture of both, with neither overpowering one another. At the end, you'll get a fresh tasting raspberry note, leaving you with a tasty vape experience that you'll want again. The ice is certainly there, but not too powerful. We'll say, the grape in this does not taste like medicine, which is something some vapers may taste with grape flavors, especially. 
Overall, this is a solid flavor in their lineup and to our surprise, it was pretty good! Whether you're on the fence with flavors like these or simply want to try something new that you don't see very often, check out Grape Raspberry Ice in the Zovoo Dragbar Z700 SE lineup.
Strawberry Kiwi
Strawberry and Kiwi is another popular blend of flavors, and for good reason! They simply blend well together, and the same can be said for this specific e-liquid that's inside this vape bar. It's a straightforward yet tasty flavor. On the inhale, you'll primarily taste strawberry. Once you exhale, you'll get a sweet mixture of both strawberries and kiwi. Both are quite natural tasting, yet it can almost taste a candy note. 
Although this does not say ice in the name, there is definitely some coolness you'll get in the vape, especially when exhaling. It's not a bad thing and does compliment the flavor, but this is expected as most disposables feature this. 
A smooth vape overall and one that can also be vaped all day, Strawberry Kiwi will be sure to please many vapers, especially those who enjoy fruit flavor profiles. It has a great amount of flavor, and has the perfect throat hit and satisfaction at 20mg. 
Lemon Lime
We will say right up front, lemon flavors are a hit or miss, and everyone taste is different, so some simply just avoid this flavor altogether. We're happy to report, with this flavor in the Zovoo Dragbag Z100 SE series, they've done an excellent job. 
On both the inhale and exhale, the dominant flavor is certainly the lemon. It tastes more candy-like, offering a nice sweetness throughout the vape experience. At the tail end of the exhale is where you'll notice a subtle hint of lime, leaving you with a different type of sweetness that elevates this flavor and really not expected as you're vaping this one. There's ice here too, and it's a bit stronger than some of the other flavors, but not a bad thing whatsoever. 
This is another we didn't think we would like as much, and it's much different than what you'd expect by simply reading the name. It's a lemon dominant flavor, but the lime at the very end leaves you wanting to vape this more and more. 
Pineapple Ice
This is another straightforward vape in their flavor lineup and perfect for vapers, who one, enjoys pineapple flavor profiles, and two, enjoy fruit notes. On both the inhale and exhale, you'll get a fresh tasting pineapple flavor, with ice right at the end of the exhale. Overall, this flavor is quite subtle, but offers just the right amount of sweetness, where it's not too sweet nor too bland. At 20mg, the throat hit is incredibly smooth as well, and offers plenty of satisfaction. Like the others, the draw is ideal for a mouth to lung experience as it's a bit tighter.
While simple, it does the job well. Pineapple Ice is exactly as you read it, pure pineapple goodness with a subtle ice to end the vape. If that's something you're looking for, then you'll love what you'll get here. 
Green Apple Ice
Green Apple Ice is another flavor from Zovoo that offers a vape experience just as you'd expect with a slight twist. The green apple flavor in this one blends the line between both natural tasting and candy-like. Depending on your taste buds, you might taste it more as candy versus natural, but either way, it's a pretty spot on green apple. 
Both the inhale and exhale, you'll get the same flavor note. The ice in this one is also a little stronger in comparison to the other flavors that you'll find with Zovoo Dragbag Z700 SE, but not by much. It comes in on the exhale, and offers a nice finish to the green apple. 
This isn't our favorite of the bunch, but we can see this being a favorite for vapers who enjoy apple flavors, both natural and candy. So if that's your thing, give this one a shot for sure.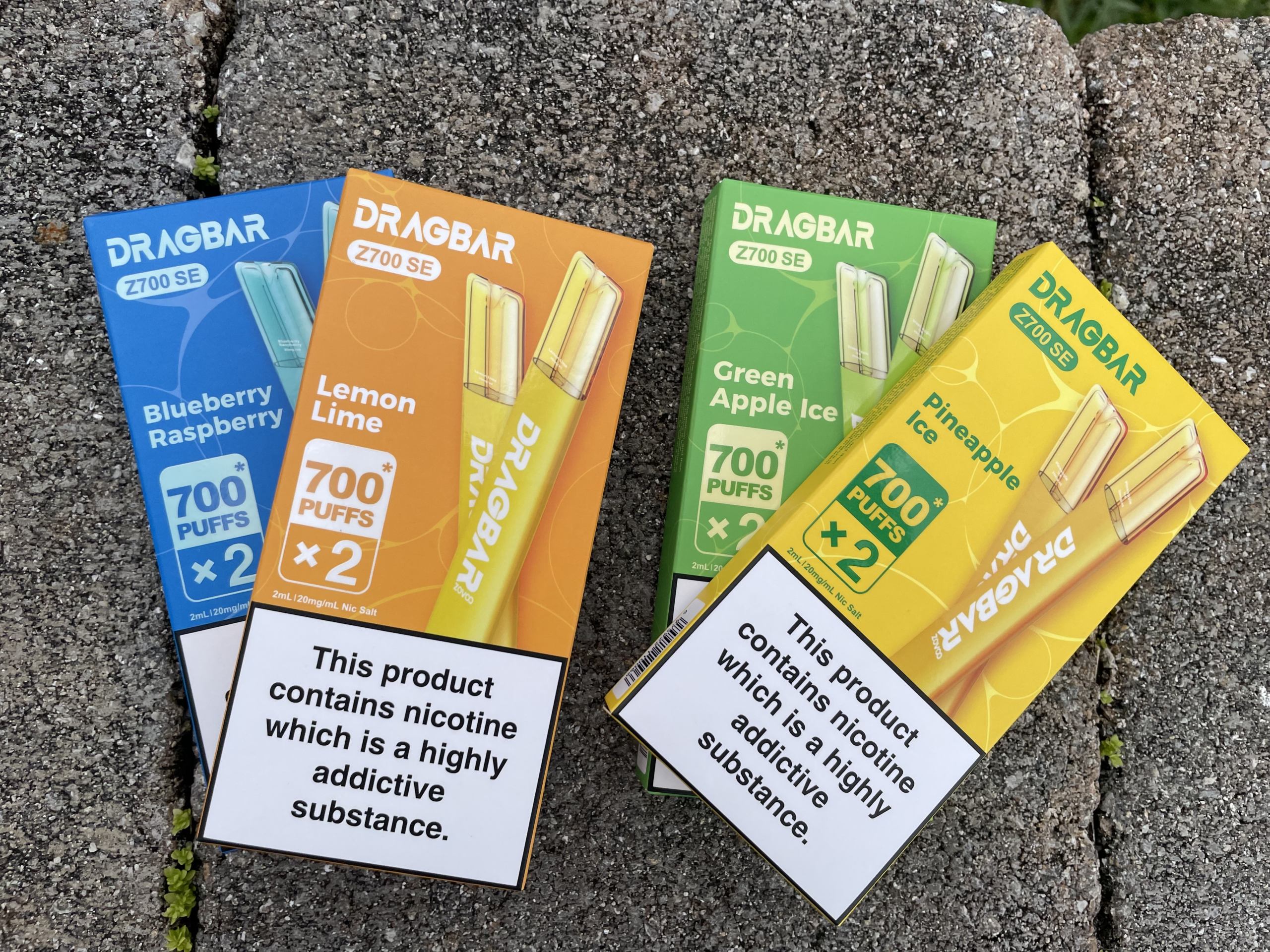 Blueberry Raspberry 
Don't get this one confused with Blue Razz Ice! It's similar, but offers some differences to separate itself. For one, the ice in this vape bar is much less prominent, which is great if you prefer a lighter ice or cooling effect in your vape. Additionally, it has a more natural taste in comparison to Blue Razz Ice. 
You'll also taste more blueberry in this flavor, with a raspberry finish. With both natural tasting, it brings forth a tasty vape that's sweet and savory. Again, the ice is there, but provides an excellent finish to the blend of fruit flavor notes. 
If we had to choose one, this would be our choice between Blueberry Raspberry and Blue Razz Ice. However, both are excellent in their own right. If you prefer more candy notes, then you'll want to lean towards Blue Razz Ice. However, if you want something a bit different and more natural tasting, you'll love this disposable.
Review Conclusion
In conclusion, Zovoo has delivered another excellent disposable to their growing lineup of vape devices. The Dragbar Z700 SE vape bar delivers in both performance and portability. What's even better is that you're getting plenty of value with each, as they come in twin packs. While they're not rechargeable, these are aimed at vapers who simply want zero hassle with their vapes, and want to grab and go.
The nicotine satisfaction is there with each flavor, and the design is top-notch. The super slim profile is perfect to take with you essentially anywhere. It's hard to beat a design like this, especially if that's one of your priorities with the disposables you're looking to buy. 
So, do we recommend these? Absolutely! With 50 flavors to choose from, an affordable price point and solid overall performance, you can't go wrong. If you're wanting a rechargeable option, they've got you covered too.