If you're searching for the best deals, discounts, and sales for the Freemax Galex Nano Pod System, then you've come to the right place! Buy one from a China based store for $13.99 after the code "FGNK". It's also in stock at a USA based shipper for $20.28 with free shipping over $100 when applying the discount code "SHIP4FREE". There are five different color options available.
The Galex Nano Kit by Freemax features a similar body style to the Uwell Caliburn AK3. That means it's not only compact, but quite comfortable in your hand and vape with. It has a built-in 800mAh battery with a maximum wattage output of 22w. Additionally, you can change the voltage by pressing the side button three times. The green light is 4.2v, the blue is 3.5v, and the red is 3.3v.
The Freemax Galex Nano includes a refillable pod cartridge. This pod has a maximum e-juice capacity of 2ml, making it TPD compliant. Furthermore, you can quickly fill it up by simply removing the mouthpiece. It is compatible with the Freemax GX Mesh coils and comes with two coil heads in the box. Lastly, the airflow comes in below the pod.
If you're into small, compact vape pods, then definitely check out the Galex Nano by Freemax. It offers replaceable coils, adjustable voltage output and excellent flavor, you can't go wrong with one of these pod systems in your collection.
Freemax Galex Nano Pod Kit Features:
Internal 800mAh battery
USB Type-C Charging
Maximum wattage output: 22w
Three adjustable voltage outputs: 4.2v, 3.5v, and 3.2v
Compact design
Uses the Galex Nano Pod Cartridge

Maximum e-juice capacity: 2ml
Top fill design
Compatible with the Freemax GX Mesh Coils
Bottom airflow
What's Included:
Freemax Galex Nano Pod Kit
Refillable cartridge
0.8 ohm coil head
User Manual
1.0 ohm coil head
USB Type-C Cable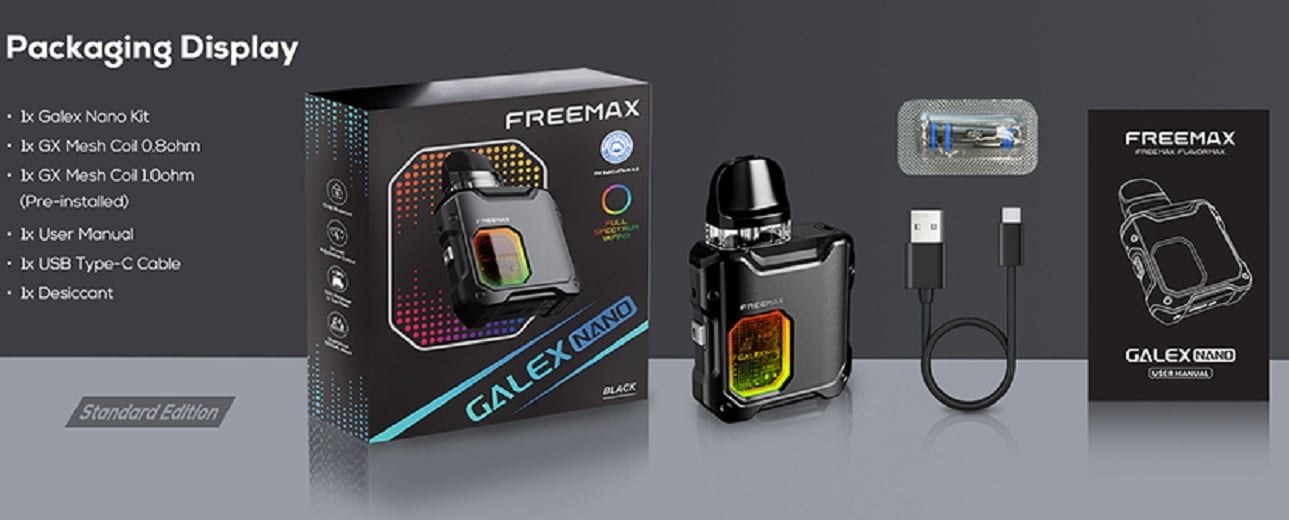 Be sure to check out the Freemax Galex Nano review video